Free Video Poker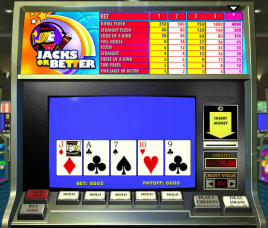 There is much discussion about whether playing traditional poker games such as Texas Hold Em or Seven Card Stud for no money devalues the purpose of playing poker so much so that there is no point. Some people believe that so much of poker is the element of bluffing and risking money that playing for free would take away such a large element of the game that it would be like taking the ice away from ice hockey, i.e. a completely different game. Similarly that playing video poker for free with no money involved and wagered to be won or lost is just like playing a video game.
But there are others for whom poker is all about the playing and the thrill of beating a rival for the pot, whether that be an actual person or in the case of video poker, coming out ahead of the machine through a combination of playing skill and good fortune/luck.
Do I Have to Pay to Play Video Poker Online?
When talking about free video poker it is not just the absence of real money bets, but also the possibility that a person has to pay to use the online video poker software.
Video poker is usually found in an online casino rather than a specific poker site. Fortunately virtually every online casino on the internet which offers video poker gaming will allow a person to play for fun demo money. It will also be free to download the video poker software, which is great as it is like getting a free copy of a video game! Online casinos do this not because they are kind-hearted souls who feel like providing entertainment at no cost, but in the hope (which is often fulfilled) that a player will enjoy the free version of video poker so much that they will then be tempted to wager some real money with them.
Where Can I Play Free Video Poker?
As stated in the paragraph above, video poker can be found in just about any online casino, and can be enjoyed for free by playing in the demo/free/practice money section of the site (if you want to play for free and the casino is asking for your credit card details then you are likely in the real money section!).
A great site in which to play video poker for free or for real money is at Reef Club Casino, which is a division of the famous brand 888 Casino. Here players can enjoy all of their favourite casino games including video poker either for practice money or real cash and the software is completely free to download, which means even those who have no desire to ever make a deposit with the cashier can enjoy playing for practice money as much as they want. Simply click on the Reef Club Casino logo on the right to get started.