Play Maximum Coins in Real Money Video Poker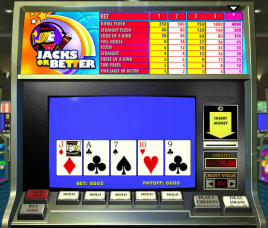 Whenever you play video poker for real money, either in an online casino or in a land-based one, it is always highly adviseable to play for maximum coins each time if you can afford to do so. This is because by inserting maximum coins into a real money video poker machine you will have a chance of winning the maximum payout according to the machine's payout table.
Always Play Maximum Coins in Every Hand of Video Poker
Video poker is one of the most potentially-profitable of casino games for a player in terms of the low house edge; however this is dependent upon the person playing video poker according to a perfect mathematical strategy in terms of the optimum way to play each and every hand. It also assumes that the player plays maximum coins each time as this payoff strategy incorporates the maximum payout. Without it, the house edge is significantly increased in terms of the potential amount of money that will be transferred from the player's pocket to that of the casino over the long run. Some video poker machines are also progressive jackpot machines which are linked to each other and payout a large jackpot for those lucky enough to hit a royal flush. However to qualify for this potential win you will often be required to have inserted maximum coins as a pre-requisite. There are no doubt many horror stories told by video poker players all over the world who achieved that elusive royal flush on a jackpot video poker machine only to find that they did not qualify becasue they did no pout enough coins in.
Whilst it may be tempting to only play one or two coins per hand rather than the maximum, particularly if you are starting out at video poker, it is essential that you play maximum coins if you truly wish to lower the house edge and to have a chance at winning the largest payout for that particular machine, and is essential when playing a jackpot version. Whatever the machine though, it is always far better to play maximum coins on a lower denomination video poker machine than it is to play one or two coins on a more expensive one for the reasons outlined above.